We Know Hay!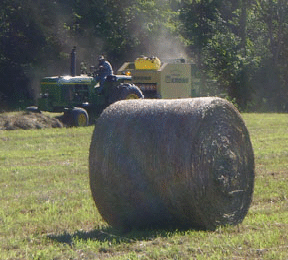 Davis Family Hay Farms has been making quality hay for many years. We specialize in the production of alfalfa, grass, and alfalfa mix hay blends for every kind of livestock. Our hay comes in convenient 4x5 round bales, neatly net-wrapped and put up with the utmost care and professionalism.
We also sell straw in 4x5 round bales. In addition we sell hay preservative and applicators as well as hay testing equipment.
We are here to answer any questions you may have about our quality hay types and/or our services. At Davis Family Hay Farms, our goal is to provide you with courteous, professional service of the highest quality.
Browse our Web site for more information about Davis Family Hay Farms. If you have any questions or would like to speak with us regarding our hay and services, please call us at: 765-565-6750.
At Davis Family Hay Farms, the customer always comes first.